Workers' Compensation Pharmacy
AllianceMeds works with injured workers to provide speedy delivery of prescription medication right to their front door. While most online pharmacies take a week or two to deliver medication, AllianceMeds delivers medication the very next day. Our national home delivery pharmacy works with clients across the United States.
As a specialized workers' compensation pharmacy, our goal is to simplify the process for attorneys, physicians, and patients, streamlining the delivery of medication to states across America. Our no-hassle process focuses on patient satisfaction and expedited service without disruption to your benefits.
While you focus on healing, we focus on delivering your medication
We recognize the stress of dealing with an injury and the complexity of getting the help you need after a work accident. Dealing with the legal and financial aftermath of a work accident can be overwhelming. When the future is uncertain, the last thing you need to worry about is how or when you are going to get your medication. Let us take that off your plate.
When you work with AllianceMeds, you get the benefit of:
No out-of-pocket expenses for your workers' compensation claims
Consistent and expedited service, usually the very next day
Compassionate and qualified team members and technicians
Workers' Compensation claim mitigation
Easy, no-hassle prescription submission
Our partners
AllianceMeds is a trusted name in quick delivery of medication for injured workers. We help ease the stress of acquiring medication for all parties involved, including:
Workers
You shouldn't have to concern yourself with how and when you will get your medication. We are quick and reliable. When issues arise, we are on top of it so you can focus on the road to recovery.
Physicians
You should focus on practicing medicine. When you partner with AllianceMeds, we handle medication delivery and insurance issues for your patients.
Attorneys
You shouldn't have to deal with your clients' prescription issues. AllianceMeds can handle any issues that arise with insurance companies for you, helping you generate further revenue.
AllianceMeds Is Licensed Across the United States
AllianceMeds is headquartered in Pennsylvania, but is licensed to deliver medications to patients in states across the USA. The trust we have developed stems from our focus on patient care and attention. We want to forge lasting relationships with our clients… you can count on us.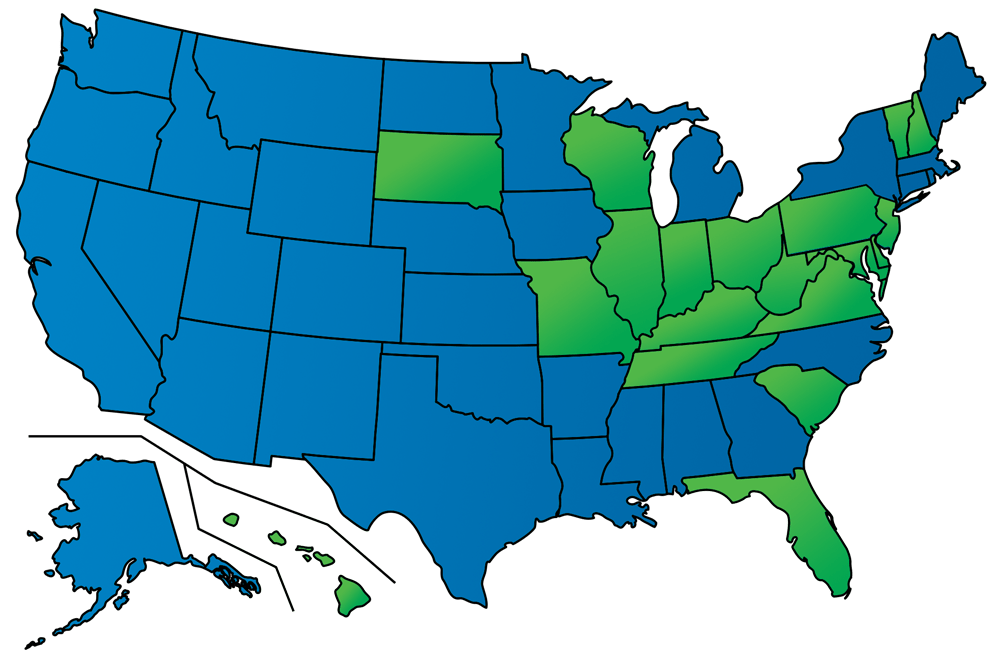 Washington D.C.
Delaware
Florida
Hawaii
Illinois
Indiana
Kentucky
Missouri
New Jersey
Ohio
South Carolina
South Dakota
Tennessee
Vermont
West Virginia
Wisconsin
Why Choose AllianceMeds?
"My firm has referred many clients to Alliance Meds and I've been very happy with the service. My clients promptly receive their medications and Alliance is very helpful if there is ever a problem with payments from the insurance company. Working with Alliance Meds reduces stress for our clients because they know they can count on getting their medication. It provides the insurance company with less control over the lives of our clients."- Thomas C. Baumann, Esquire
"I have a long and satisfying professional relationship with Alliance Medication Services, LLC. They give attention to the individual needs of my clients with compassion and concern for detail. Communication with the staff is excellent and they are invaluable in assisting with insurance issues. They are quick to contact my office with any issues regarding an order. When there are issues with the workers' compensation carrier approving a prescription, they have come to the rescue by delivering critical medication to the client's home.  Furthermore, they work with my clients to avoid gaps in prescriptions when there are disputes with workers'…"- Timothy D. Belt, Esquire
"Alliance is a win/win/win – a win for me as a claimant's attorney, a win for my staff and a win for my clients. They are very knowledgeable with respect to PA WC law as it relates to the filling and billing of prescriptions. The amount of time my staff now has to spend on trying to get authorizations and/or payments for prescriptions has significantly decreased as Alliance takes care of it all. If a billing issue does arise that they cannot take care of and litigation is necessary, they make it so easy for me as their billing practices…"- Dean Dominick, Esq.
"I have used Alliance Medications for 7 plus yrs, the people are great and very professional, they deal directly with the insurance company and my medications are delivered right to my door. I can't say enough good things about Alliance Medications, I would recommend them to anyone. "- Lorraine
"I signed on with Alliance Meds in January at which point they became responsible for all of my medications. Alliance never missed a beat taking on such a large task. I found out after four months Alliance had not received payment and was covering the cost of all my medications. I can say without a doubt signing on with Alliance was, in my opinion, the best move. The people at Alliance are real down home and a company with which I look forward to a long relationship."- David