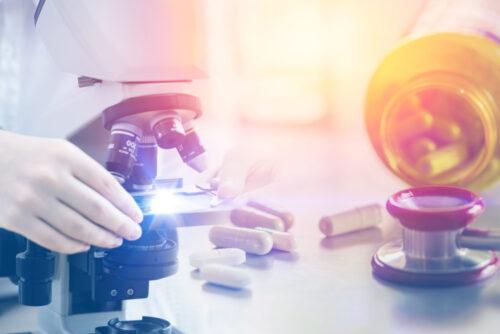 Chronic pain conditions affect at least 116 million adults in the United States. Many of these people use nonsteroidal anti-inflammatory drugs (NSAIDs) extensively to treat chronic pain due to their efficacy and analgesic qualities. Unfortunately, prolonged use of NSAIDs may result in gastrointestinal toxicity as manifested as dyspepsia, ulcers or bleeding. Duexis® was formulated to reduce these dangerous symptoms. Now, it is available as a more cost-effective treatment option in a generic. To learn more, please continue reading, then contact AllianceMeds today.
What is Duexis®?
Duexis® is a fixed-dose combination tablet of ibuprofen 800mg – famotidine 26.6mg. Ibuprofen is an NSAID that is commonly used to treat pain and inflammation. Famotidine is a histamine-2 receptor antagonist which reduces stomach acid. Duexis® is a prescription-only medication indicated to relieve the signs and symptoms of rheumatoid arthritis and osteoarthritis and to decrease the risk of developing ulcers in people who are using chronic ibuprofen.
What are the benefits of Duexis®?
NSAIDs, including ibuprofen, are effective for decreasing pain and inflammation in patients with a wide range of acute and chronic conditions. However, these agents are associated with the potential to develop upper gastrointestinal (UGI) ulcers and consequent serious and life-threatening bleeding and perforation. Therapy with Duexis® significantly decreases the risk of UGI ulcers associated with ibuprofen without altering the latter's efficacy. The use of a single table that contains both ibuprofen and famotidine may provide advantages over other approaches to lowering the risk for NSAID-associated UGI ulcers and may also improve patient adherence to therapy. Duexis® helps fulfill an important need for many patients with chronic pain who require treatment with NSAIDs and who are simultaneously at risk for NSAID-related GI ulcers.
What are the side effects of Duexis®?
Of course, we would not be doing our due diligence if we did not inform you that taking Duexis® does come with the risk of serious effects, including:
Stroke
Heart attack
New or worsening high blood pressure (hypertension)
Heart problems
Active bleeding
Kidney problems
Serious allergic reaction
Serious skin reaction
Liver problems
Low red blood cell count (anemia)
Meningitis
Eye problems
Before beginning treatment, you should apprise your healthcare provider of your complete medical treatment, so you can make an informed decision together. During treatment, if you experience any side effects that bother you or do not go away, tell your healthcare provider.
If you have any questions about how we can help, contact AllianceMeds today.